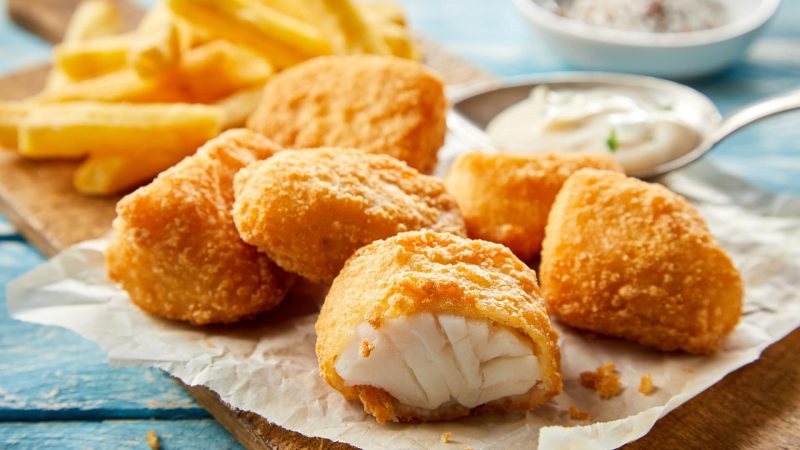 Fish and chips royale – panerad skrei och dragonremoulad
Det här är vår bästa tolkning av klassikern fish and chips. Med den skreitorsk och en krispig dubbelpanering känns den lite extra lyxig och passar både till vardag och fest.
Ingredienser
67 kr

2 dl vetemjöl

3 st ägg

3 dl panko eller ströbröd

1,5 dl majonnäs

1 msk dragon i vinäger (eller torkad dragon + vitvinsvinäger)

1 msk kapris

1 st sardell

4 dl neutral olja till fritering

4 st citronklyftor
Gör så här
Salta och peppra torsken runt om
Häll upp mjöl, ströbröd/panko i varsin skål. Knäck äggen i en skål och vispa så att gulan och vitan blandas.
Vänd torsken i mjölet och skaka av överflödigt mjöl. Doppa den därefter i det vispade ägget och vänd den till sist i ströbrödet. Låt stå i frysen tills det är dags att steka eller fritera.
Hacka dragon, kapris och sardell och blanda med majonnäsen. Smaka eventuellt av med lite extra vinäger.
Värm oljan i en gryta eller djup stekpanna till 165 °C (medelvärme på spisen). Om du inte har en termometer kan du lägga en bit vitt bröd i oljan. När brödet börjar få färg är oljan lagom varm.
Lägg försiktigt i de panerade torskbitarna och fritera på båda sidor tills de är gyllenbruna (ca 2-3 minuter på varje sida).
Lyft upp torskbitarna på hushållspapper och låt dem rinna av.
Servera med pommes, klyftpotatis eller sötpotatis-fries och en citronklyfta.